Kerry's Speaking Schedule at the 2018 International Builders Show
December 6, 2017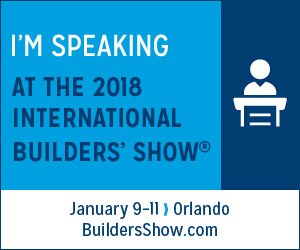 Will you be at the 2018 International Builders Show?!  Don't miss my sessions.
January 9th – Tuesday
The Future of New Home Sales: What You Need to Know for 2018
9:00 – 9:30 AM – Sales Central – West Concourse, Level 3, Room W312
Jumpstart your show with a rapid-fire presentation featuring some of the brightest minds in new home sales. Listen as experts explore the latest market trends and what you need to know to be successful in 2018 and beyond.
Strategic Career Planning through the Decades
12:45 – 1:45 PM – PWB Headquarters – West Concourse, Level 3, Room W305
Four successful women working in the building industry share stories and wisdom about setting goals and priorities at different life stages throughout their home building careers while in their 20's, 30's, 40's, 50+ years.
January 10- Wednesday
Tech & Touch: The Formula for a Successful Homebuyer Experience

10:30 – 11:30 AM – West Concourse, Level 3, Room W 311 G

Delivering the best possible customer experience is the driving force in marketing and can be your biggest differentiator, but truth-be-told, we sometimes fall short. How do you ingrain this in your company culture and ensure that it is understood and practiced every day and in every part of your company? And while personal touch remains the cornerstone of the buyer's journey, how does technology fit at each stage of the buying process to enhance this experience? In this session, see examples of how the right balance of technology and human touch can significantly elevate a buyer's experience, and learn how to create a strategy that works with the resources you already have.

Tags: International Builders Show


Categorised in: Kerry Mulcrone