2019 International Builders' Show
January 15, 2019
Where can you find Kerry at the 2019 International Builders' Show??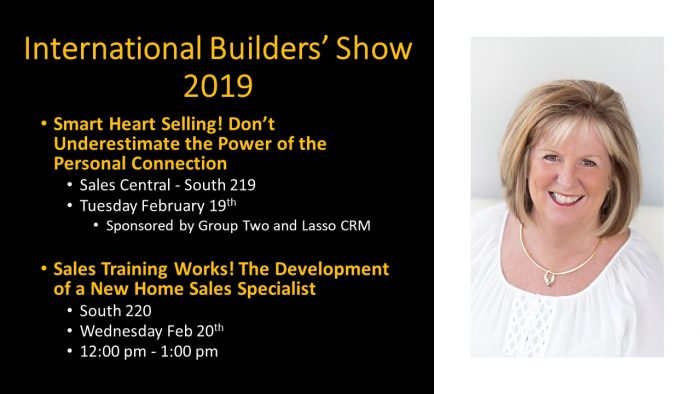 Kerry will be at the International Builders' Show (IBS) in February 2019 in Las Vegas, NV.  IBS is the largest annual light construction show in the world.   The show offers the most up-to-date and innovative education the industry has to offer. It features sessions in eight tracks, taught by renowned building industry experts from across the country. With topics ranging from sales and marketing to construction and codes, there is literally something for everyone.
Tuesday, February 19th
Smart Heart Selling! Don't Underestimate the Power of the Personal Connection
Kerry will show you why your presentation and delivery are paramount! Take it personally… because home sales are personal.
Wednesday, February 20th
Sales Training Works! The Development of a New Home Sales Specialist
Join Kerry; a nationally-recognized sales trainer and the Graig Lee; the 2018 NAHB Salesperson of the Year as they turn the classroom into a training center and demonstrate how to develop and deliver winning sales presentations.
They'll explore what makes a person successful in sales, share the foundational, real-world concepts that will take a sales team to the next level, and teach you how to transform your model homes and sales centers into "experience centers."
This interactive session will infuse energy into your hungry sales organization and leave you with the strategies to excite, delight and move customers through the purchasing channel.
Tags: Builders Show, International Builders Show, Sales Training


Categorised in: Kerry Mulcrone