Kerry presents at NAHB International Builders' Show with Meredith Oliver
December 11, 2019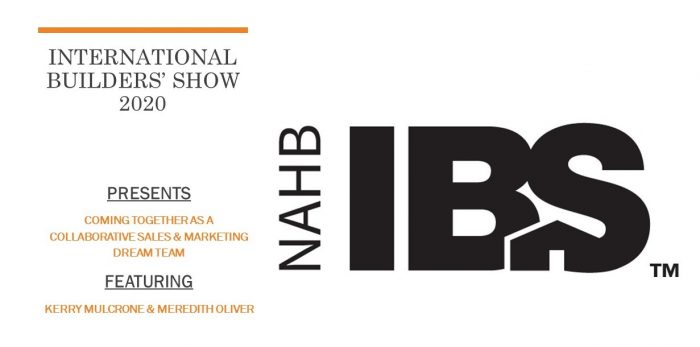 NAHB International Builders' Show 2020 offers the most up-to-date and innovative education the industry has to offer. With topics ranging from sales and marketing to construction and codes, there is literally something for everyone!
Kerry is offering a Building Knowledge session with Meredith Oliver.  Come see them in action on Thursday, January 23 from 12:00 – 1:00 as as they present Coming Together as a Collaborative Sales & Marketing Dream Team.
What It's About:
If you are looking for fresh strategies that create coordination, collaboration and communication between your sales and marketing teams, this advanced session will help you break the silos and build a synergy that leads to peak performance. Learn marketing tools and techniques that creates a stronger sales force to sell in the digital age; discover ways salespeople can provide essential feedback to marketers that results in increased ROI and lead generation, and learn communication best practices that help key players stay on the same page—all in one can't miss session!
What You'll Learn:
Identify the advantages for creating collaboration between sales and marketing strategies and team members.
Examine technology tools and tactics that encourage synergy and success.
Learn how to manage and measure sales and marketing teams to peak performance standards.
Get all the information you need on the Registration Page.  See you in January!

Tags: IBS 2020, International Builders Show, Kerry Mulcrone, NAHB, sales and marketing


Categorised in: News